I started this day at work, watching the OFB situation unfold, and expected another day of tornadoes to the north, with BS storms on my end of the system. As the day went on, I realised i needed to be on I35 and 412. With it being Saturday, I couldn't just leave work. So I watched all the chasers streaming video of ever shape of tornado possible. My boss even watched with me, as the trunk twister destroyed a pig barn. live from a helicopter. The groans of agony finally led my boss to let me off work. A week previous to this, I blew the engine head in my Tahoe(im an idiot) and was now completely broke, and could only drive my 2000 rear wheel drive Crown Vic. I love ole' blue. we've been through some storms, but I really am not comfortable chasing muddy OK county roads with a RWD vehicle. But I had missed hundreds of tornadoes this week, so I was tired of it. I picked up my girlfriend Daniele, and we busted ass to Stillwater, OK. We met the storm near 35 and 51, with a stovepipe starting to occlude/rope and a new truncated cone on the ground just N of the occluding tube. Here you can barely see both tornadoes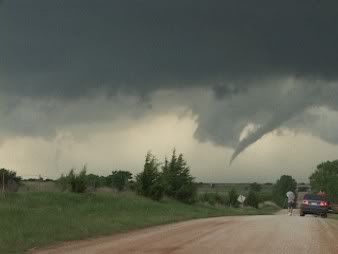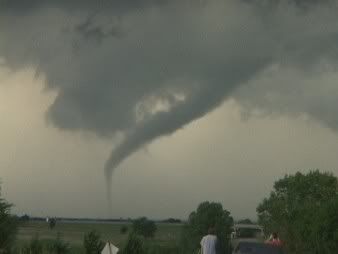 I set up on a hill to shoot video and admire Daniele's first 2 tornadoes. We stayed out ahead of the monster, watching for new tornadoes. There was one more quick rope-of-a-spin-up about a half mile W of us at one point, when we were struggling through the mud trying to avoid hail. Pretty scary, but we made it out. Followed the storm all the way to Red Rock, then lets it go at sunset.
320 miles. It was awesome to get Daniele her first 3 tornadoes on her first chase. She must be good luck. It's kinda cool that I didn't miss out on the entire week. 3 is better than none. Of course i know people that saw 15 tornadoes this day, and 25 more in the days leading up to this. Lesson learned. Vehicle maintanence is key to a sucessful season.