January 7, 2008 Chase
I got off work at noon and met up with my chase partner, Randy Rhea at a subway in Jenks, OK to discuss the forecast. After a quick Mesoscale analysis, we decide to head SE toward Checotah, OK. After watching storms struggle to develop, we decide to head North to Wagoner, to meet up with our other chase partner, Matt Hagy. On our way there, there was a "cell" that was displaying supercell-type structure, and not even showing reflectivity on GR3. It was interesting. We meet Matt at McDs, do another meso-analysis, and look at the latest radar. With the windfield at hand, a storm would have to deviate to the right to make full use of the backing winds at the surface. We head north to 412 and set up at the truckstop on 69 and 412 to pick a storm. After a quick radar check and chat, we see one storm that would possibly make the right-turn. It was just starting to crank in southern Cherokee CO and was already showing a hook-echo. So we jump in the car, and blast East to get ahead of in on 412. It was TOR warned near Tahlequah, and low-level rotation was intesifying. It was going to turn right! After catching a decent hail core(dimes and a few nickels) and some really intense lightning, we get ahead of it just before heading into AR. We moseyed through Siloam Springs, wondering how far east we needed to go to stay safe, as this storm had been taking a more Easterly course than we had seen on radar. We decided to keep heading East out of town, just in case. We found a nice hill to watch from, and then we decided we were too far East. We jump back onto 412 W and hear wall cloud reports NORTH OF TOWN. This b*tch was really moving. So we jump onto AR59 and flew north towards Gentry. While on 59, we were tailgated by a the WhackerChaserSuperLightbarPolice(see end of post). After being harassed by police-wannabees, we head north in hopes of finding a clear spot to watch the storm leave us. We found a spot behind a chicken processing plant, near Decatur, AR. We see a lowered area with rotating scud, get behind this processing plant, and this lowered area is close to the ground. Is it a tornado? Well, it's rotating condesation from the belly of a right-turning SUP, and it's almost on the ground. It looks like sh*t, but its January, and it's in the Ozark Hills of Arkansas. Then, a funnel appears on the souther edge of the scud lowering, and reaches out about half way to the ground. We watch it, i take video, Randy and Matt take stills, and it says goodbye, but not before the funnel just to the south of it touches down.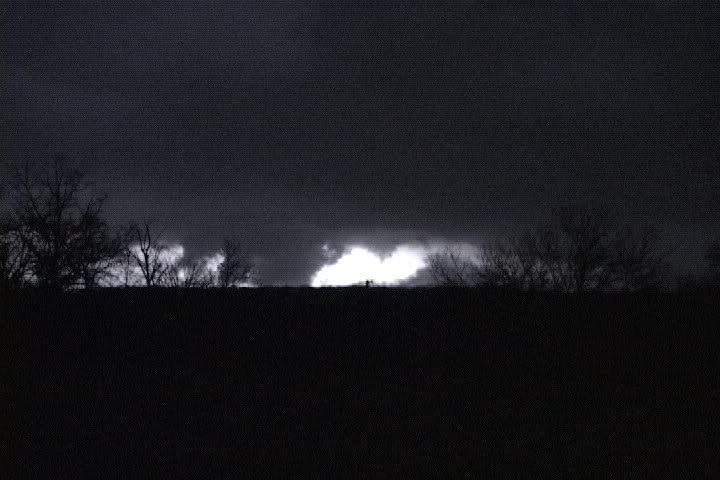 We celebrate our first tornado of the year, and head towards Bentonville to gas up, data check, and pick our next cell to intercept. Well, another Sup had popped up, and was going right over Bentonville. It was TOR warned, but with about 971576 different cells also being warned, we had no idea. we stop to get gas, I pull up GR3, and theres a very intense velocity couplet over the north side of town. It was too late to "chase" it. So we watch lightning, and I look to see what our tornado producer had become, and was in awe of the radar signature. It had taken on a "tornadocane" structure. Amazing. While looking at the radar, lightning hits about 150 yards behind me. Matt is filming me looking at the laptop, and accidentally gets this...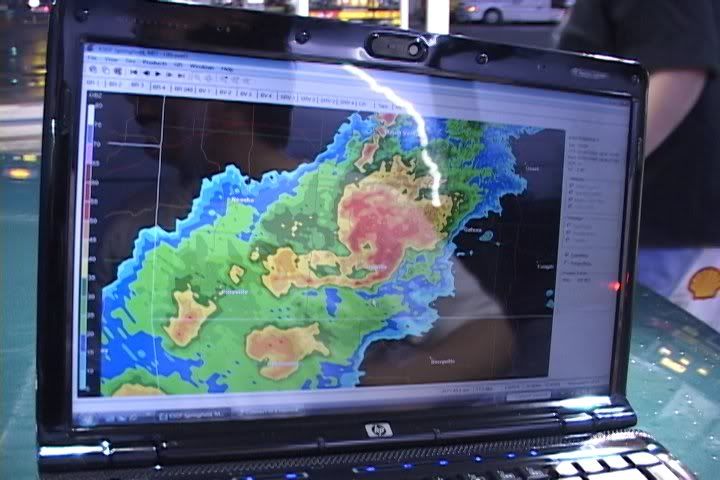 After we finished gassing, we head South on 540 in hopes of finding hotel with free wifi(man we need something better hah). We hear of another cell about to cross into the boonies, so we head West on 412 to meet it. We stop at WalMart in Siloam Springs to wait for it. It becomes disorganized, so we head West into the mess in hopes that the next cell in line would isolate itself. It doesn't, so we punch through it to get back to Hagy's car, which we left at the shell station. Before we get too far behind the line, the mess had moved on, and a cell had become extremely isolated and displayed a fantastic radar signature, and intense low level rotation, right over Wagoner. So we punch west through the northern edge of it, with hopes of following behind it on 412. It became less organized, and by the time it reached 412, the Meso had accelerated to the forward-flank of the storm. We watch the rain-free tail of it anyways, and wave goodbye as it accelerates toward MO. We take Hagy back to his car, and head home.
411 miles. 5 sups, 1 tornado, 1 tornadocane, 1 lightning reflection video, and one hell of a first chase of the year.
RANT: Now back to the Lightbar rant I didn't know if we were in a parade of lights, or chasing a tornado. Then these a-holes use their lights to gain right-of-way not once, not twice, but THREE TIMES, IN A CONSTRUCTION ZONE, with little to no room to move off of the roadway. I film the license plate, for later use, of course, and we get out of the construction, and out of Gentry. The Weather Police decide to pull over. I decide that i want to find out who they think they are. so i get out, and run back to their car to see who the hell these POLICE IMPERSONATORS were. And guess what. I'll be a daughter of suzie if it weren't BILL BRASKY HIMSELF!!! OK. They were voluteer firefighters, with FOUR laptops running GR3. Lets go through the lighting set-up. WIGWAG headlight brights, 4 MASSIVE led lights in the grille, 2 more on the brush gaurd facing the side, a humongoid amber arrowstick, and 4 90watt Strobe tubes on the brake/backup light assembly.
Don't get me wrong. Anyone who knows me knows that I'm all about some emergency lighting. I'm all about the safety aspect of it. There is a point where its just ridiculous, and these idiots passed that point. Thats all I got.